How to Join FlatMate.in Process
FlatMate.in is the first app and web based platform that helps you to search shared room/apartments based on common liking & interests and not just based on usual factors like location and price range. In other words, we focus on the relationship between potential roommates. A study shows if you share apartment with compatible roommate then chances are higher that you would stay longer with each other and will become friends for life. How to Join Flatmate.in process as below-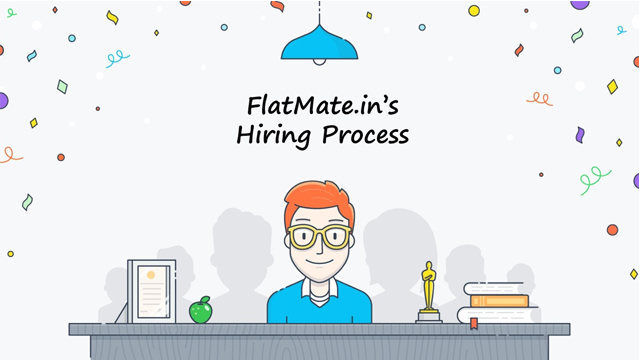 We prefer individuals who are focused to their goals and who can join FlatMate.in to build innovative solutions and bring in a real change.
We spend a lot of efforts in the recruitment process as it is base of everyone's growth.
How to Apply
It doesn't matter you are a fresher looking for great learning opportunities or an experienced professional looking for a change, if you are a self-starter, analytical and proactive we will be happy to have you in our team.
So, if you love working on new technologies, have exceptional communication skills and are eager to work in our culture, here we have listed down the steps on how to join FlatMate.in.
1.Send us your Application
It is great that you love to work at FlatMate.in, we have a lot of positions open for you.
You should visit our careers page to find out which position best suits your skill set, interests, and background.
Fill the necessary information and submit your CV. We assure you will hear back from us shortly.
Tip: Pay extra attention to your CV. We don't really interview people with a bad application. We like to associate ourselves with people who have an eye for detail, so we suggest you perfect your CV.
2. Hear from Us
We receive many applications daily. Be patient, our HR Team is carefully review each and every application. If you meet our requirements, we will schedule a call at the earliest.
Our HR will ask you a couple of questions over the call and if everything works out, we will schedule an interview at our corporate office.
3. First round of Interview
The first round of interview will be conducted by someone from the team you're applying to. Initially, we see if you are a right fit for the team. In this meeting, we discuss your past accomplishments and find out what you expect to learn in the position.
We are really looking for is people who are passionate about their work. The ones who really stand out in the interview are people who go above and beyond to make the most of the opportunities they get.
4. Technical Screening
After going through initial round, we ask the candidates to complete a technical challenge in a given amount of time.
Tip: In the technical screening round, our aim is to keep you on your toes. We want to see how you act when faced with a challenge. We suggest, have an open mind and do your best.
5. Final Round Interview
On final round, we will let you know if you are eligible for the final interview.
If you have made it to the last round — Congratulations, you're just a step away from joining FlatMate.in.
In final round we primarily ask questions ranging from your work attitude to career goals. Basically, we go deeper into your skills and assess how you will fit in the team.
If you have aced the interview and everything goes well, you'll find a job offer very soon.
6. Job offer
Our HR Team will confirm if you have landed up the job and you'll find an offer letter in your mail shortly.
7. Onboarding
Once you accept the offer letter, the team will help you with the onboarding process.
Congratulations, we are happy to have you onboard!
If you do not end up getting an offer, we will try to give you feedback about what didn't work out. Hopefully, that will help you with other job applications.
If you have applied to FlatMate.in in last 3 months, we suggest you wait for at least 6 months before applying again.
Now that you know everything there is regarding how to join FlatMate.in.
What are you waiting for? apply right away. We'll be happy to see you.